Best Song Lyric Titles
There are a few catchy lyrics. And ,the movie makers want to name their movies with those titles. Because, the audience are already familiar with the catchy and easy lyrics. So, the film makers believe that they would record hits at the box office. Also, it happened in the case of some lines such as  'Malli Malli Idi Rani Roju', Gunde Jari Gallanthayyindi, Em Maya Chesave, Oohalu GusaGusaLade, Chitram Bhalare Vichitram  and so on. Song Lyric Titles here.
As the Actor Nithin is a big fan of Pawan Kalyan he used  a lyric of  PawanKalyan's song for his movie, 'GundeJariGallantayyindi'. Pawan's nephew used a lyric of his song  for his movie  Pilla Nuvvu Leni Jeevitham. Both the lyrics are of Gabbar Singh which was a blockbuster at the box office.
Lyric Titles Songs

Malli Malli Idi Rani Roju MalliJaaji Allu kunnaRoj. It is a song from Rakshasudu which ran successfully and that lyric was used as a title for Sharwanand and Nitya Menon movie. Also, it recorded hit at box office. The block buster 'Yem Maya Chesave' which cast Chaitanya and Samantha in lead roles. It took the  inspiration from the movie 'Okkadu'  'Nuvvem Maya chesavogani Omanasa cheppamma nijanni'. Likewise the song 'Oohalu Gusa Gusa Gusa Lade' from 'Bandipotu' is an inspiration to the movie title with the same.
'Jummandi Nadam SayyandiPadam' was a  big hit song which used  to be played at wedding pandals. And any festive occassions turned to be a movie title as 'Jummandi Nadam' for MohanBabu's son Manoj. 'Adavari Matalaku Arthalu Verule'. Basically, it is a proverb  and it was used as a lyric for a song in the super hit movie'. Missamma'  which became very popular in those days. Later, the song was also remixed for the movie 'Khushi'. After around 40 years, it turned to be a movie title for Victory Venkatesh. It was also a big hit.
All in all,popular song lyrics as movie titles are believed to be successful money making formula for the producers.Here are a few best lyric title movies for you to entertain yourself.
Also, check Telugu Love Songs | Tollywood Romantic Songs
Song Lyric Titles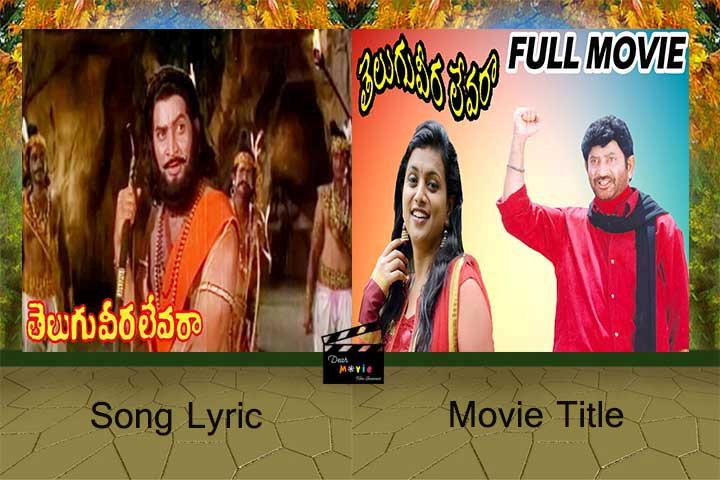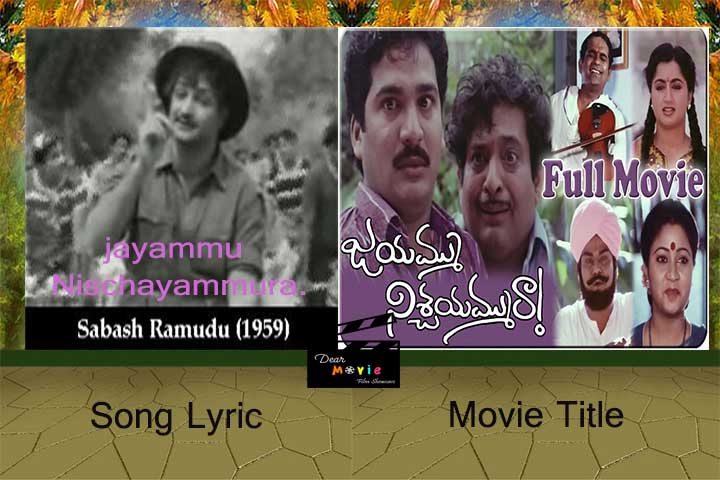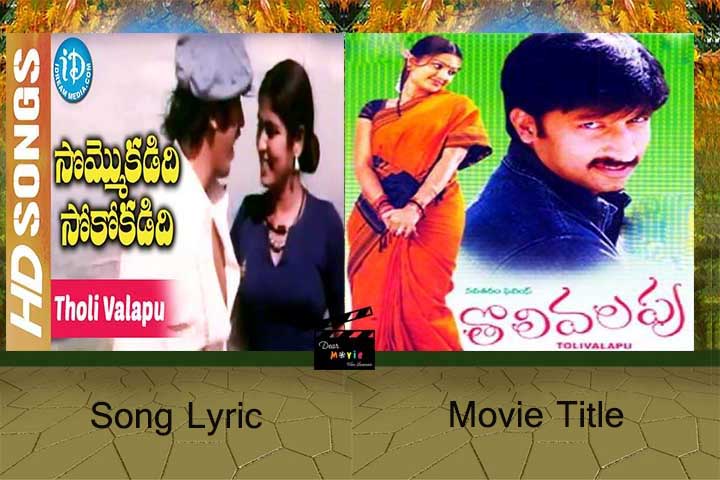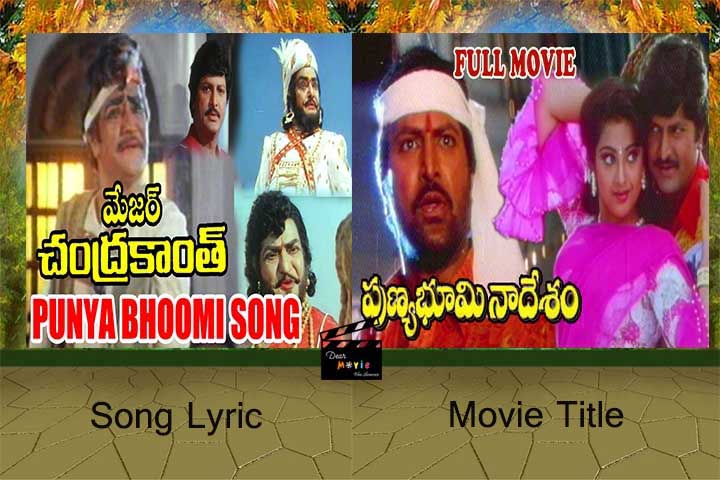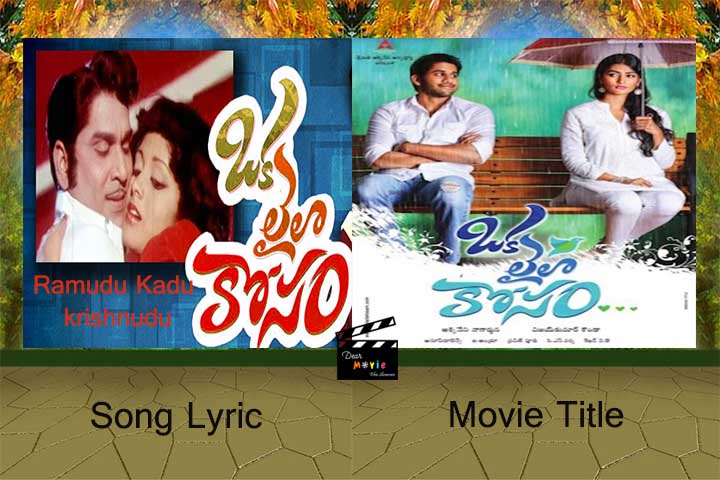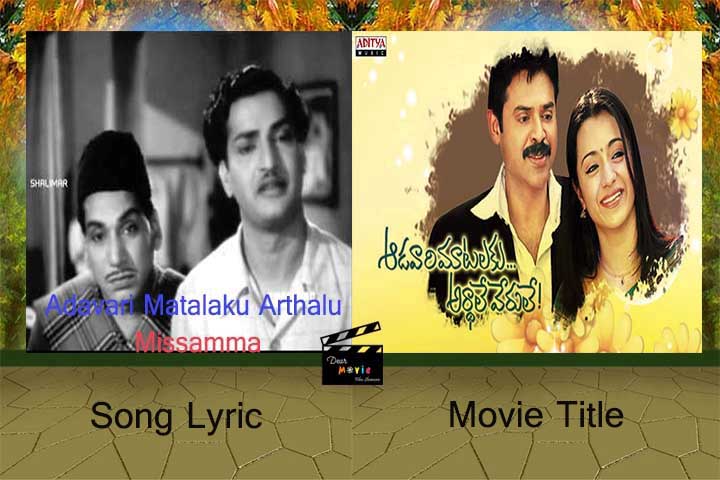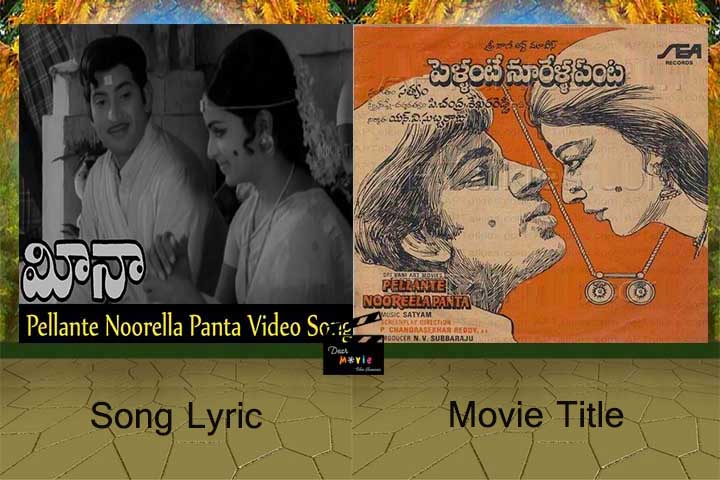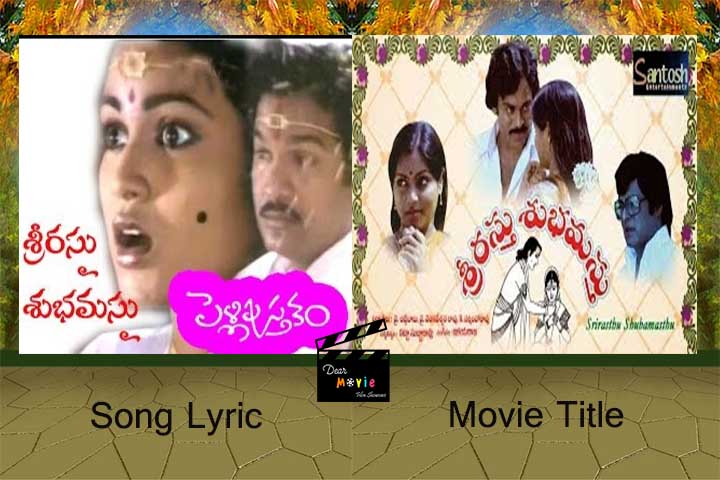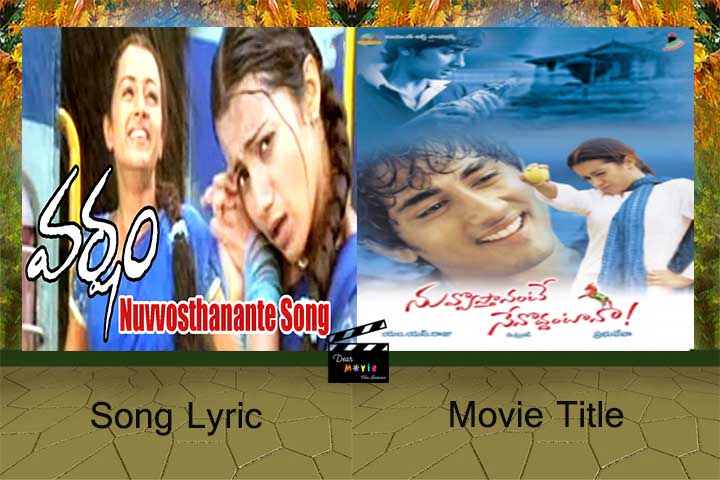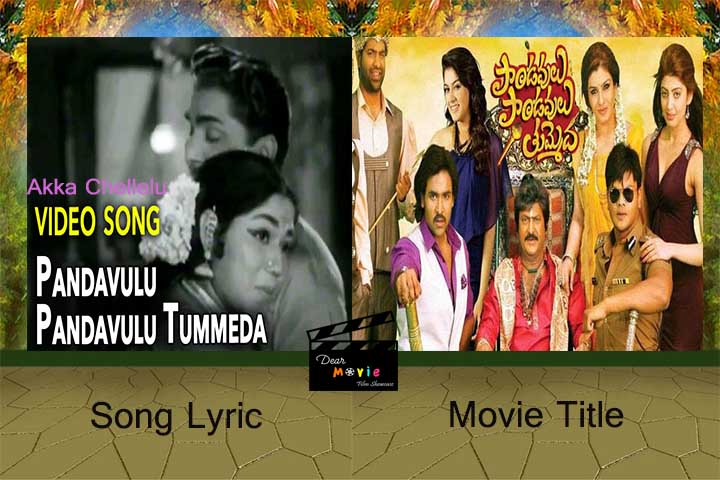 Hit Lyric Titles
| | | |
| --- | --- | --- |
| Movie Titles | Song Lyrics | Movies |
| Ahana Pellanta | ahanaa pellanta. | Maaya Bazaar |
| Malli Malli Idi Rani Roju | Malli Idi Rani Roju Malle Jaaji Allukunna Roju.. | Rakshasudu |
| Gunde Jari Gallantayyindi | Dil se Dil se nee OOhallo..yegase yegase anandamlo….. | Gabbar Singh |
| Kurralloyi..kurrallu | .verrekki unnollu | Andamaina Anubhavam |
| Vivaha Bhojanambu.. | Vivaha Bhojanambu Vinthaina Vantakambu. | Maya Bazaar |
| Telugu Veera Levara… | Teluguveera levara Dheeksha Pooni Sagara……. | Alluri Sita Rama Raju |
| Chitram Bhalare Vichitram | Chitram. Hey.. Bhalare | Dana veera Soora Karna |
| Tholi Valapu | Tholi Valapu thondaralu usi golipe themmeralu… | Sommokadidi..Sokokadidi |
| Punya Bhoomi Nadesham | Punya Bhoom iNadesam Namo Namami…. | Mazor Chandrakanth |
| Em Maya Chesave.. | Nuvvem maya Che sa vo gani O Manasa Cheppamma Nijaanni… | Okkadu |
| OOhalu Gusa Gusalade.. | Oohalu Gusa Gusa Lade Naa Hrudayamu | Bandipotu |
| Adavari Matalaku Arthalu Verule….. | Adavari Matalaku Arthalu Verule.. | Missamma |
| Pellante Noorella Panta | Pellante Noorella Panta. | Meena |
| Nuvvosthanante..Nenoddantana.. | Ennallaku Gurthochane Vana.. | Varsham |
| Raara Krishnayya… | Raara krishnayya | Ramu(old) |
| Jhummandi Naadam | Jhummandi Naadam Sayyandi Padam Tanvoogindi Eevela…… | Siri Siri Muvva |
| Okka Magadu | .Okka Magadu………. | Seethayya |
| Chinni Chinni ASa.. | Chinni..Chinni ASa….. | Roja |
| Pandavulu Pandavulu tummeda | Pandavulu Pandavulu tummeda. | Akka Chellelu |
| Srirastu..Shubhamasthu | Srirastu..Shubhamasthu…Srikaram chuttukundi Pelli pusthakam | Pelli pusthakam |
| Pilla nuvvuleni jeevitham.. | Pilla nuvvuleni jeevitham.. | Gabbar Singh |
| Krishnamma Kalipindi Iddarini | Nuvvee Darini Nena darini Krishnamma kalipindi Iddarini… | Bangaru Bommalu |
| Oka Laila Kosam | Oka Laila Kosam Tiriganu Desam… | Ramudu Kadu krishnudu |
| Bhale Magadivoyi | Bhale Magadivoy Bangaru Na Samioyi.. | Maro Charitra |
| Ravoyi Chandamama… | Ravoyi Chanda mama Ma Vintha Gadha Vinuma… | Missamma |
| Ramayya Vasthavayya | Ramayya Vasthavayya Maine Dil Tujko diya(Hindi) | Sri 420(hindi) |
| jayammu Nischayammura.. | jayammu Nischayammura.Bhayammu Ledura…. | Shabash Ramudu |
| Bangaru Kodipetta | Bangaru Kodipetta Vachenandi Hey Papa Hey papahey papa………. | Gharana Mogudu |
| Dikkulu Choodaku Rammayya | Dikkulu Choodaku Rammayya | Kalpana |