Admittedly, Cine people believe the remakes are one of the the most reliable sources to make the film successful. The film makers have been following the trend since inception. In fact, A lot of Hollywood film stories have become the source for making the films in most Indian languages. And also, we have seen  Many South Indian language films which came as remakes in Hindi and vice versa. And also the Hindi film makers a strongly believe that the Telugu Hindi remakes would become hits.
The Telugu film industry is one of the oldest film industries and have produced many movies in different genres. And the Telugu industry is developing to a great extent. And so, the Bollywood film makers are getting crazy about the Telugu films and showing interest in remaking them in to Hindi. Besides, the most Telugu Hindi remakes have recorded the decent hits at the box office.That is why the Tollywood films are becoming inspiration to the Bollywood producers.  in Hindi. Here are some super-hit Telugu Hindi remakes for you to check out.
 One Of The Best Telugu Hindi Remakes
Ramudu- Bheemudu – Ram aur Shyam
The then biggest hit Telugu movie 'Ramudu Bheemudu' released in the year 1964. Tapi Chanakya directed the film. And it starred N.T.Rama Rao, Jamuna, Relangi and Rajanala in lead roles. It was the first movie of D. Rama Naidu as a producer. N.T. Rama Rao played the dual role as "Ramudu" and "Bheemudu". The Tamil remake was 'Enga Veettu Pillai' released in 1965 Which starred M. G. R .Later, it came as a remake into Hindi as Ram Aur Shyam released in 1967 starring Dilip Kumar.The Malayalam and Kannada remakes are 'Ajayanum Vijayanum' (1976) with Prem Nazir and 'Mojugara Sogasugara' (1995) with Vishnuvardhan.
One Of The Best Telugu Hindi Remakes
Maro Charitra – Ek Duuje Ke Liye
Maro Charitra is a Telugu romantic tragedy film which released in the year 1978, and K Balachander was the captain of the crew. The film starred Kamal Haasan and Saritha in the lead roles. It featured cross-cultural romance between a boy and a girl who belong to different castes. Maro Charitra recorded a huge hit at the box-office at that time.
The Hindi remake of Maro Charitra was  'Ek Duuje Ke Liye' released in the year 1981.The  film was directed by K Balachander and the starring was Kamal Haasan and Rathi Agnihotri .The film received a critical appreciation not only from the film fraternity but also from movie enthusiasts. And it became a blockbuster.
Shubhalagnam – Judai
The film 'Shubhalagnam' is a 1994 Telugu film produced by K. Venkateswara Rao. And V. Krishna Reddy directed the film.It Starred Jagapati Babu, Aamani, Roja in lead roles and music also composed by S. V. Krishna Reddy. The film became Super Hit at box office.
The film won 2 Filmfare Awards.In Hindi, It was remade as 'Judaai' with Anil Kapoor, sridevi and Urmila.
Athadu – Ek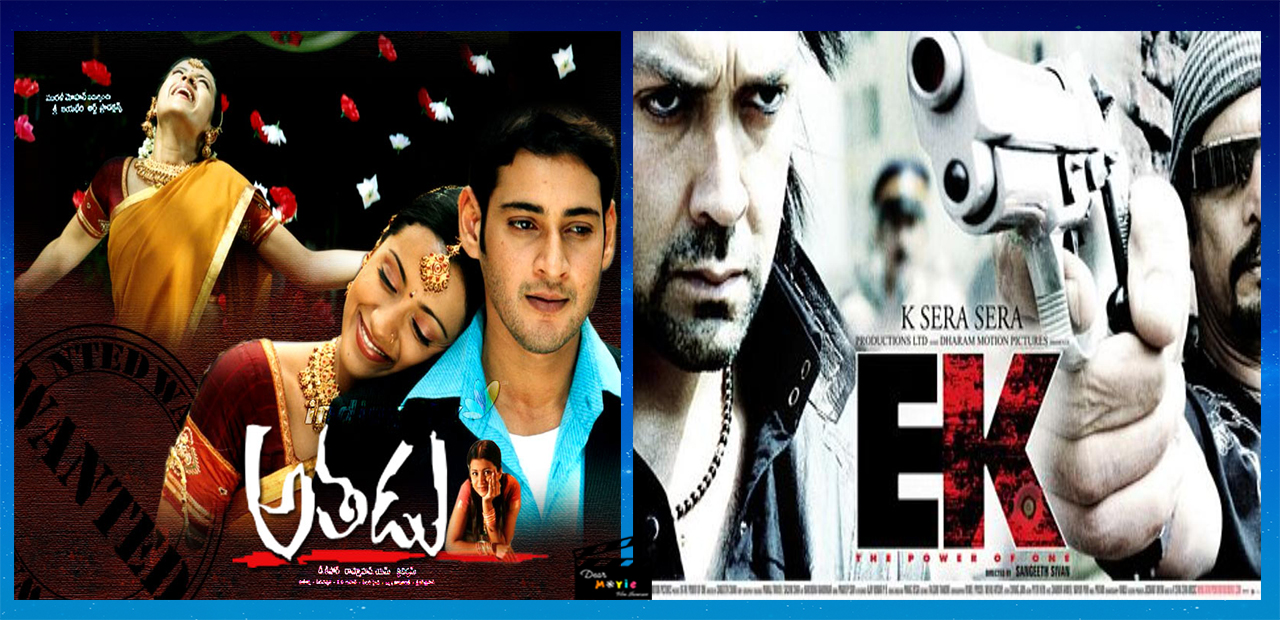 Pokiri – Wanted
Vikramarkudu – Rowdy Rathore
Ready – ready