Akkineni Nagarjuna Best Movies
Needless to say that Akkineni Nagarjuna is a son of a the most popular actor Akkineni Nageswara Rao. He has been acting in films for more than 20 years. He is one of  the most adorable actors in Tollywood. Especially, womenfolk connect very much with his films. Here are  a few Nagarjuna Best Movies for you to have a check.
Nagarjuna Best Movies— Shiva -1989
The film revolves round the college students and mafia wars. AS we know, Nagarjuna shared his screen space with Amala in this movie. Ramgopal Varma joined the Tollywood director's list as a debutante director. The other leading actors are Raghuvaran and J.D Chakravarthy. It recorded a sensational hit at the box office. And, We can consider it was a big turning point in Nagarjuna's film career.To its honor, it won the place in the list of 'CNN-IBN's 100 greatest films of all time'.
Later, The Hindi remake released with the same name.The crux of the story is about how the hero character faces the mafia men and gets over the issues.Though the movie came in the initial days of Nag's career, he showcased  a tremendous acting skills. Really, the character suited his body language.
           Nagarjuna Best Movies —- Geethanjali – 1989
Geethanjali, the tragic love story, was directed by Manirathnam.The film released in 1989. Really, Nag performed in the movie in very matured way and it saw the huge hit at the box office. And, the film costarred  Girija,Vijayakumar and Radhabai. Also, it came as a Hindi remake as 'Yaad Rakhegi Duniya' released in 1992. In this film, the hero character is a frivolous sort of person. And he suffers from cancer. And the doctors who diagonises him declares that he is going to die in a few months.
Then, he wants to have complete mental rest in Ooty. So, he leaves his family and goes there. Eventually, there in Ooty he connects with a girl and falls in love with her. To his great shock, the girl also is suffering from chronic disease. The entire movie revolves round these two characters and both Nagarjuna and Girija did ultimate justice to their roles. Especially, Nagarjuna's performance was excellent.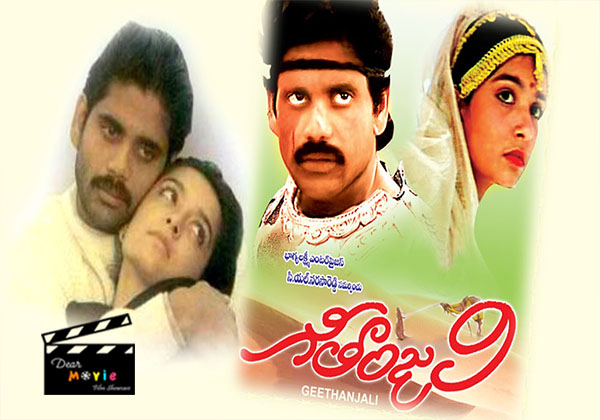 Nagarjuna Best Movies — 
Annamayya – 1997
The movie hit the theaters in 1997. And, it starred Mohan Babu, Suman, Ramya Krishna, Roja and Kasturi in lead roles along with Akkineni Nagarjuna. And K.RaghavendraraRao was the captain of the film.
It bagged two National Film Awards and was a super hit at the box office. Besides being the first biggest hit of his career,Akkineni Nagarjuna got great appreciation from the audience as well as film fraternity.
The film depicts the divine love between God and a devotee.
                               Nagarjuna Best Movies — 2002
Santhosham
The film, 'Santosham'has the starcast with Prabhu Deva, Shriya Saran, Gracy Singh, Sunil, Kota Srinivasa Rao and Brahmanandam in Lead roles along with Nagarjuna. It was commercially successful film and came as a remake in Bengali as 'Bondhon' and in Kannada as 'Ugadi'.
The movie, 'Santhosham' narrates the story of a young architect who is deep love with a girl. But her parents didn't approve of their marriage and forcibly get her to married to a boy of their choice. Then the Girl runs away to marry who she loves. She gives birth to a child and passes away in an accident.The hero then goes and joins her family to win the heart of his father-in-law in order to give his child a nice extended family.
With this intention, he comes to the village and endears himself to everyone in the family.Still, there also love haunts him and the younger sister of his deceased
wife falls in love with him. One fine day hero gets to know about her love towards him and denies it in view of the family's prestige. Finally, the elders express their consent and give the green signal to their marriage.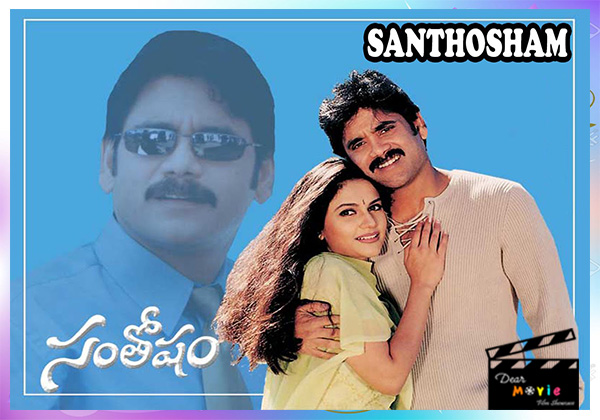 Nuvvosthavani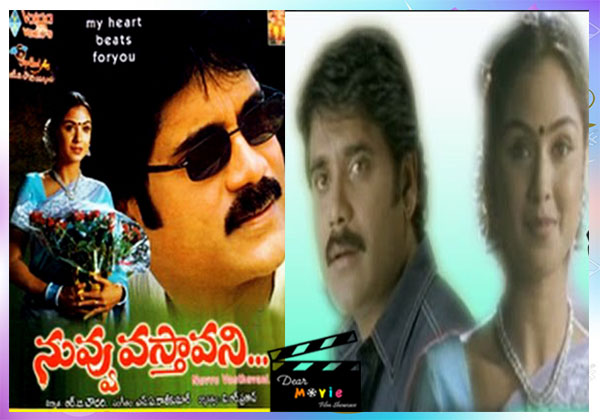 The cinema 'Nuvvu Vastavani' starred Simran, Kota Srinivasa Rao, Brahmanandam and Tanikella Bharani in the lead roles under the direction of V.R.Prathap. Its origin was a Tamil blockbuster 'Thulladha Manamum Thullum' released in 1999.
The film narrates the story of a young singer who is in love with a girl.But, under some unfortunate circumstances, the girl becomes blind and she is under a negative impression that he is responsible for her state of being blind. And even she believes that he is a goon.Contrary to that, she only knows his voice and likes him but when they confront each other she hates him as he was spotted by her looking like a goon in a few circumstances. In spite of that, he feels responsible for her blindness and meets her every need.
His mother donates her eyes to her and he donates his kidneys for the operation expenses. When everything is going well, accidentally, he faces a problem and gets arrested when his luggage mixes up with a terrorist. After a few years, he comes back to discover that the girl is a city commissioner. Later, she comes to know the facts and his true love .
Also, check Mahesh Babu Best Movies
Nagarjuna Best Movies-2016
Oopiri
The movie 'Oopiri 'released in the march 2016.Coming to the crew, Vamsi Paidipallywas the director and Nagarjuna Akkineni, Karthik and Tamannaah were the lead roles.
As for the story, Vikaram Aditya(Nagarjuna) is a paralysed billionaire who wants a person to ever put him in happy and cheerful mood. In this connection, several people were interviewed. Among the candidates attended the interview, he chose Seenu(Karthi) as his assistant.
Seenu's frivolous style of behaviour and happy-go-lucky sort of nature impresses Vikaram. And, Seenu's association changes his life completely with in a short of span of time. Altough Seenu looks happy and joyful he also has some domestic problems. But he doesn't want to disclose his issues to Vikram in view of not bothering him. Eventually, Vikram comes to know about his problems and sort them out.The end of the film shows that the two characters stand for each other in life.
Needless to say about Nagarjuna as to his performance. Totally, he stole the show in playing his character Vikram'. And his co-star Kartik also lent his share with his acting skills in dealing with the delicate story.Though the role played by Nag involves a little risk, he did the utmost justice to the character and won the hearts of the audiences. Really, some of his emotional scenes make us shed tears.
Nagarjuna Best Movies–Gaganam
A flight from Chennai to New Delhi is ready to take off. After some time, a group of terrorists hijack the flight which is forcibly landed in Tirupati because of a technical problem. The hijackers put the condition to release of their leader, the terrorist. After making the negotiation with the terroriststhe national home secretary(Prakash Raj) , Raveendra (Nagarjuna) heads the team of National Security Guards. The government decides to release the terrorist leader.Then Raveendra hits up on a plan and take risk to rescus the passengers. The rest of the story tells about how his plan worked out and save the passengers.
This movie shows that Nagarjuna chose a role of different genre to give a relief to the audience. He all together came out of the routine formula and commercial elements. Gaganam is a sort of movie where the audiences felt fresh to see Nagarjuna in a role diiferent to other roles in his movies. movie in attracting wider range of . Nagarjuna's performance was superb as NSG commando.