Telugu actresses debut movies create a curiosity in the movie enthusiasts. Among  the Telugu actresses , a few female artists launched themselves in to films as  a debutante in the very small roles. In spite of that, gradually, they soon rose to popularity by means of their tremendous acting skills. Here are some Tollywood female debut artists who earned name and fame in the film industry.
 TopTelugu actresses debut movies – Anjalidevi
Among Telugu Actresses Debut Movies, the then popular actress Anjalidevi can be considered as one of the most noteworthy actresses. The film 'Raja Harischandra' was Anjali's first film in which she portrayed the role named as Lohithasya. It released in the year 1936.
Telugu actresses debut movies- SAvithri
Although Savithri played very small characters in the initial days of her career, she became very popular very soon. She made her debut with the film'Pellichesichoodu' released in 1952.
The 1953 release film 'Puttillu' was actress Jamuna's debut film. Her debut film laid a strong foundation to her film career. Even though Jamuna acted in a small role, she proved her talent in the very first film.
The renowned actress and director Vijayanirmala started her film career as a child artist. And in 1966, her debut film released in which she played the sister role to Chandra Mohan , an another debutante.
Vanisri's movie career literally began with junior artist roles and it took quite a long time to get recognition in the film industry. Her first film was 'Bangaru Panjaram' released in 1965. Among Telugu actresses debut films , Vanisri's debut film marks as a worth-remembering one. Because in the later times she rose to huge popularity and even acted in a few lady-oriented films.
Manjula did her debut role in the cinema'Jai jawan'. However, she began her career as child artist in the Tamil movie' Shanti Nilayam'.
Telugu actresses debut movies – Jayasudha
Jayasudha is a niece of actress vijayanirmala and started her cine career as a child artist. No wonder to say that she got successful in films right from child artist to character artist. Her debut film as a lead role was the movie 'Lakshmana Rekha' released in 1975. jayasudha's first film brought her critical appreciation for her matured performance. Among the Telugu actresses debut movies, Jayasudha's first film is  one of the best ones.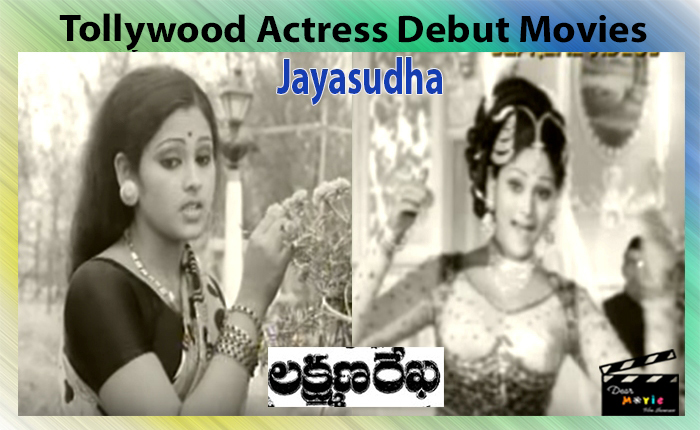 Telugu actresses debut movies include 'Anthulenikatha ' with which  Jayaprada made her debut . She portrayed a heavy role in that movie and received great applause. Though it was the great director Balachander's film, Jayaprada showcased her excellent talent.
No need to say about the actress Sridevi and her popularity in films. She debuted as a child artist in the  Tamil cinema'Thunaivan' at the age of four. And she made her Telugu debut film' Padaharella Vayasu' released in 1978.
'The movie 'Raithu Bharatham' was Soundarya's debut movie in which she acted opposite Krishna. It released in 1992.
Anushka Shetty made her debut with Puri jagannadh's film 'Super'. She acted alongside Akkineni Nagarjuna. The cinema hit the silver screens in the year 2005.
Trisha appeared in 'Varsham' in a lead role alongside Prabhas. And it was her debut film in Telugu.
The 2006 release ' Lakshmi' was marked as Nayanathara's debut movie in Telugu.